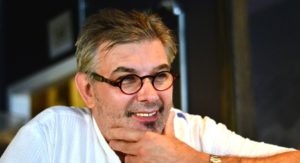 First impressions
First impressions are very important, so for me, aperitifs are very important.
There are a few things to consider when making the choice.
Food pairing is not that important for an aperitif, as most of the time you will have it by itself or with a mini food. There are thousands of mini foods for aperitifs but in general, I prefer warm hors d'oeuvres, ideally a few different ones.
In a gourmet restaurant, the kitchen should send something as amuse-bouche. (how can you not love French, when there's an expression like "mouth amuser")
So, yes they should be taken with some foods, even simple peanuts, but the best way is to have something right away when you seat and another one after you ordered the drinks. It should be a showcase from the chef.
How do you choose the right drink?
The people that you are with should influence your choice.
Is it a date? First or not? Do you want to show off or be discrete?
If it's a business meeting, how do you want the people you are with to judge you? Also, who pays the bill?
It depends also on how well do you know the people you are with – you don't to be the first to order a cocktail and after you, everyone else orders beer or even worst, something non-alcoholic.
If it's a restaurant with a theme then you should go for the house cocktail.
Aperitif is never just an aperitif – it's the beginning of the whole experience, so it's important to start right.